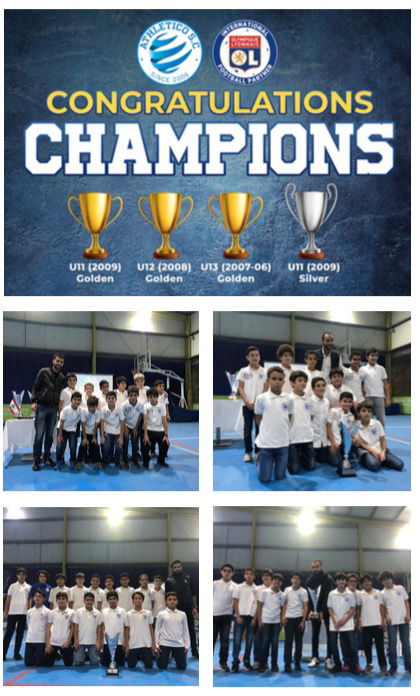 Following last season's impressive results, our teams have kept that momentum going by grabbing 3 Gold and 1 Silver trophy at the Lebanese Cup! It has been the month of penalty shootouts, tough competition and adrenaline-filled finals…
In the U11 (2009) category, our two teams trained by Coaches Jimmy Faddoul & Coach Roy Daher, faced each other in the final, mentioning that it is not the first time they meet in a cup final. The two teams played an incredible game and managed to draw the match. Two 5-kicks penalty rounds later, both teams were given a single kick that led to Dbayeh winning the Cup. Dbayeh's Goalkeeper Jason Fenianos was awarded Best Goalkeeper in the tournament.
As for the U12 (2008) category, the team trained by Coach Farouk Sidhoum were playing against Roda Antar FA. It was an intense game that ended in a 1-1 tie, but after all our 2008s managed to win the penalty shootouts and crowned champions for the second consecutive year. Our goalkeeper Andre Azoury was given the "Best Goal Keeper" award in the tournament.
Coming to the U14 (2006-07) category, our Beirut team, consisting largely of 2007 players and trained by coach Ali Farhat, were facing BFA in the final. The boys were fighting hard till the 0-0 end of the match, and after an exciting penalty shootouts, our boys were proudly crowned champions. The best Goalkeeper award went to our goalkeeper Hussein Kdouh.
What an amazing way to launch the 2019-2020 season, congratulations to all our players and coaches, your club couldn't be prouder!